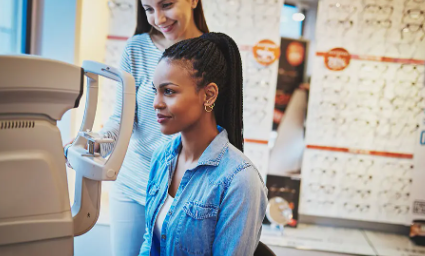 If you think you'd like to become an optical assistant, this is the course for you! You'll take a comprehensive look at the diverse world of optical assisting. You'll see why optometry is such an interesting field and how rewarding it can be to help people solve their vision problems.
To sign up for this course visit: https://www.ed2go.com/ulm/
You will be amazed to learn all the different places optical assistants can work! You'll cover optical assisting in private practice, healthcare clinics, the military, teaching facilities, and in retail sales. You'll discover the personal and professional skills needed to work in a front and back office and in an optical dispensary and lab. You will understand all the things optical assistants must know about frames, styles, lenses, contact lenses, and working with people. Along the way, you'll discover how the human eye works, and examine some common eye conditions. Finally, you will learn how to become certified and licensed, which will open up even more opportunities for you and identify you as an expert. This course is an ideal springboard for starting a career in this growing and ever-in-demand field!
What you will learn
Discover how to become a certified and licensed optical assistant
Learn about opportunities in optical assisting for private practice, healthcare clinics, the military, teaching facilities, and retail sales
Understand all the things optical assistants must know about frames, styles, lenses, contact lenses, and working with people
Discover how the human eye works and learn about common eye conditions
How you will benefit
Use what you learn as a springboard for starting a rewarding career in a growing field
Acquire the knowledge and skills to help people with their vision - one of the most important concerns in life
Discover how to open up more opportunities and be identified as an expert through certification
How the course is taught
Instructor-led online course
6 Weeks access
24 course hours