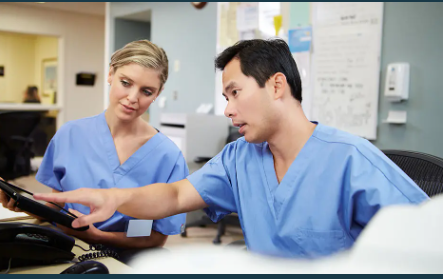 Learn what it takes to have a successful career as an administrative medical assistant. This course explores the job of an administrative medical assistant (AMA) in a doctor's office—from appointment scheduling and chart creation to medical billing and coding—to give you an inside-view of the job.
To sign up for this course visit: https://www.ed2go.com/ulm/
Learn what it takes to have a successful career as an administrative medical assistant in the exciting and high-demand world of healthcare.
In this course, you will master the basics of scheduling patients' appointments, surgeries, and hospital admissions. In addition, you will discover how to create, maintain, and file medical charts. You will also find out how to verify patients' insurance, create encounter forms (charge tickets), post charges, obtain pre-authorizations from insurers, and schedule return visits.
After that, go behind the scenes as you learn how to apply diagnostic and procedure codes to patients' accounts and bill their insurance companies. Next, explore additional accounts receivable tasks including posting payments and adjustments, billing secondary insurance, and following up on unpaid insurance claims. You will also learn what a day sheet is, why it's important, and how to keep track of all your patient accounts on a daily, monthly, and yearly basis.
Finally, delve into the basics of keeping a medical office running smoothly—from ordering supplies to scheduling staff meetings and making travel arrangements.
If you're organized, a "people person," and interested in a secure job in the healthcare field, a career as an administrative medical assistant may be just what you're looking for. This course will set you on the path to that career and help you determine which aspect of medical information management, such as patient contact or billing and coding, suits you best.
What you will learn
Master the basics of scheduling patients' appointments, surgeries, and hospital admissions
Discover how to create, maintain, and file medical charts
Learn how to verify patients' insurance, create encounter forms (charge tickets), post charges, obtain pre-authorizations from insurers, and schedule return visits
Learn how to apply diagnostic and procedure codes to patients' accounts and bill their insurance companies
Learn what a day sheet is, why it's important, and how to keep track of all your patient accounts on a daily, monthly, and yearly basis
Understand the basics of keeping a medical office running smoothly-from ordering supplies to scheduling staff meetings and making travel arrangements
How you will benefit
Learn whether or not a career in healthcare is right for you and where you fit in
Open the door to new career opportunities and discover a fulfilling career path
How the course is taught
Instructor-led or self-paced online course
6 Weeks or 3 Months access
24 course hours