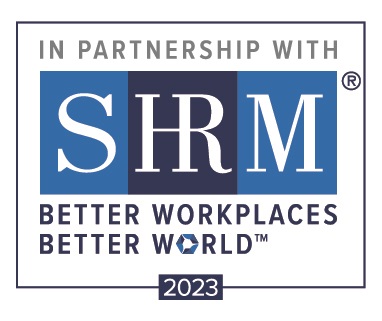 The SHRM Learning System is a great opportunity to advance your career and improve your workplace effectiveness.
The materials will touch on almost all Human Resource activities.  The setting will utilize a collegiate classroom and will involve the study of Knowledge-based materials and Situational Judgement scenarios.  You will have a chance to interact with an experienced facilitator, and other students seeking to elevate their careers.  The course is designed to prepare the student for testing for a nationally recognized certification by SHRM.  Successful completion of the SHRM Learning System and the passing of the exam will designate the participant as a highly respected Human Resource Professional in today's workplace.
Course will also be available via Zoom. However, participants must attend the first session in order to pick up course materials. Otherwise, participants must pay shipping and handling fees to have materials shipped directly to them. 
Active SHRM members may be eligible for scholarship opportunities. 
Class Dates:
Tuesday, September 12, 2023
-
Tuesday, November 28, 2023
Location:
University Library 106
Registration (Active SHRM Members)
Schedule:
Meets from
06:00pm
to
09:00pm
Class is held on Tuesdays only.
*SHRM will have class on Tuesday, November 21st (Thanksgiving week)
Class Dates:
Tuesday, September 12, 2023
-
Tuesday, November 28, 2023
Location:
University Library 106
Registration (Non-SHRM Members)
Schedule:
Meets from
06:00pm
to
09:00pm
Class is held on Tuesdays only.
*SHRM will have class on Tuesday, November 21st (Thanksgiving week)
Class Dates:
Tuesday, September 12, 2023
-
Tuesday, November 28, 2023
Location:
Textbook: Shipping & Handling (Zoom Only)
Schedule:
Meets from
06:00pm
to
09:00pm
Includes
Study materials will be shipped directly to Zoom-only participants