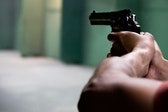 Free Active Shooter Training course provided by the University of Louisiana at Monroe Police Department
Fall Session Cancelled
Presenters for this presentation are ALICE active shooter instructors and each hold law enforcement certifications in emergency operations and have several years of experience in rapid response, criminal investigations, and tactical training. 
The four hour block of training will be an instructor led presentation that covers the history of school based threats and recent developments for response and past case reviews.  The training will include some demonstrations presented for participants who wish to volunteer.
The course will utilize the theme of "run, hide, fight" principles with an emphasis on not being a victim and utilizing proactive measures to survive and win in critical situations.